The Home Page is the first page a user sees when they log into PPO. It shows all the current items assigned to the user and is designed to focus the user's attention on the most important items.
The home page defaults to the employee record of the user logging in. Should you wish to view another employee's home page, simply select their name from the employee drop-down list at the top of the page.
If you do not see the Options section with the Employee dropdown, make sure that your user group has been granted access. For more information about setting up user group access rights, read the following knowledge base article.
Users have the ability to customise what they see on the PPO Home Page by applying filters to each section on the home page. Examples highlighted below for Projects, Issues and Risks.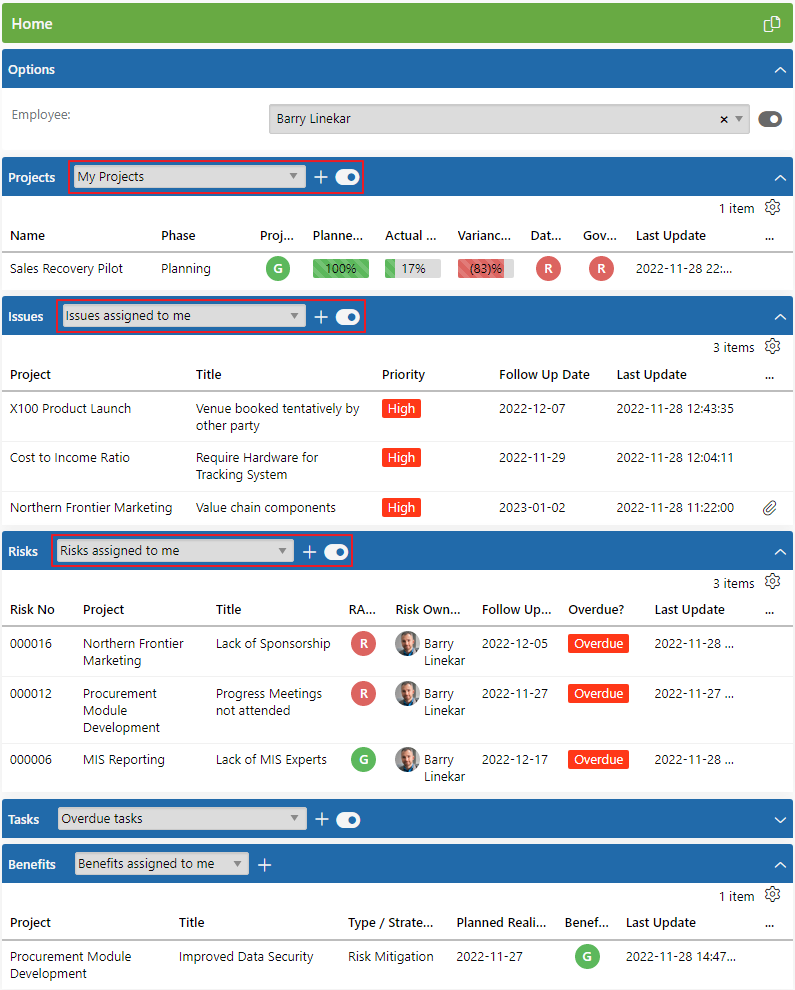 By default (if no filter is applied), the Home Page will show:
All items that are not filtered out by a global filter;
Items that have been assigned to the user or where the user is the contact person; and
If the user was the last person that updated the item (regardless if it was still assigned to them or not).

Entities on the Home Page
Administrators can define the entities that should appear on the Home page as well as to change the sort order of the entities displayed. This is done as a global setting under the Administration menu item by selecting System Configuration.
Unclassified Documents
You have the ability to add documents via the home page. To do this you can either drag and drop single or multiple documents or use the "Click here" option to add a single document.

Once you have added documents in the Upload document box, they will appear under the Unclassified documents section:

You can select the above documents to allocate them to the correct projects.
Additional information:
Users can delete their own unclassified documents via the home page regardless if their user group has access to delete documents.
A user that has access to view other employees' home pages will also be able to delete the related users' unclassified documents should their user group have access to delete documents as well.
If the user viewing the other employee's home page does not have access to delete documents, then they can't delete the other user's unclassified documents.
For more information on Documents, follow this link.