This article covers:
How to Access Support
PPO provides a comprehensive support portal that offers guides such as a full Knowledge Base of all PPO functionality and a Frequently Asked Questions portal. Users can also log ideas and submit tickets from this portal, while having full visibility of their existing tickets as well as previous tickets.
The Support Portal can be accessed by clicking on the Help icon (?) on the Main Menu.

Watch this short video explaining all components on the help menu:
Support Portal
Selecting the first icon (Support Portal) will take you to the full PPO Support Portal: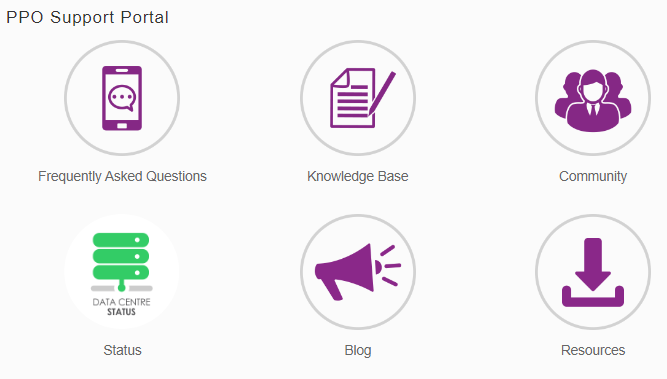 New or interested users can access extensive information on all PPO Functionality in the Frequently Asked Questions and the Knowledge Base. The Community section hosts the current ideas that have been logged by end users and users are also encouraged to log their ideas on additional functionality they would like to see in PPO.
The support portal home page also displays the up-time status of the PPO application as well as a quick link to the PPO blog. The Resources section hosts a variety of useful documentation as well as links to product videos. New or interested users can also request their own evaluation instance of PPO, via the "Click Click" link at the bottom of the page.

In the top right-hand corner logged-in users will be able to see "My Activities" which will show them a list of all their support calls, ideas, and comments they have done to date. Users will also be able to submit a support ticket by selecting "Submit a request" if additional help is required.

Log an Idea
PPO is not a static product and continues to evolve and improve over time. Feedback from our user base as to the features that they would like to see in the product is invaluable to us in determining which changes to make. Selecting log an idea allows you to suggest new features for us to take into consideration for future enhancements. Follow this link for more information.
FAQ
Once you have clicked on the Frequently Asked Questions you will notice that they have been divided into various categories. Click on any specific FAQ to view the information or search for a specific FAQ by using the "Search" option at the top of the page.
Each FAQ can also be rated, in terms of whether the content covered was helpful or not. The "thumbs-up or thumbs-down" options can be used to indicate your preference.
Knowledge Base
Similar to the Frequently Asked Questions, the Knowledge Base covers all the PPO functionality available in as much detail as possible. When accessing the Knowledge Base you will notice that it has also been divided into various categories. Click on any knowledge base article to view all the relevant information, or use the "Search" option at the top of the page to search for specific content.
Live Chat
The Live Chat option allows you to chat directly with a Support Consultant.
Live chat is available from within PPO by clicking on the above icon OR when navigating to the Support Portal; as well as from the PPO website.
All education-related queries can be addressed via live chat but if there are more complex issues or if you need the support consultant to make configuration changes, the chat will be converted to a support ticket.
Chat is available during working hours (08h00 - 17h00 GMT+02h00) Monday to Friday.
A message can however be left after hours which will be addressed during working hours by means of a support ticket.
When selecting the Live Chat option from within PPO, a chat pop-up will appear which auto-populates your name and email address. You simply type in your query and click on Start Chat.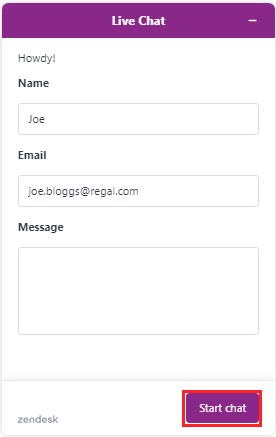 To end a chat, select the Options button and click on End chat.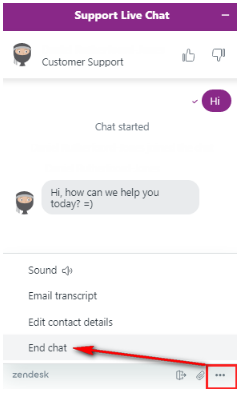 If you see this, we are offline and will get back to you in working hours via a support ticket: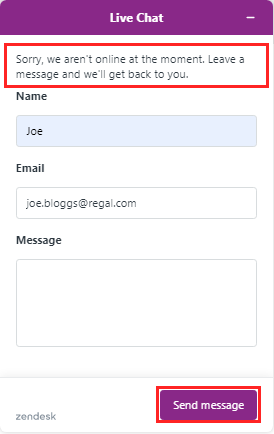 Submit a Ticket
The Submit a Ticket option, allows you to log your requests for the attention of the PPO Support Team.

This section allows for a title, description and a document to be uploaded. Once you are happy with the information, click on the Submit button.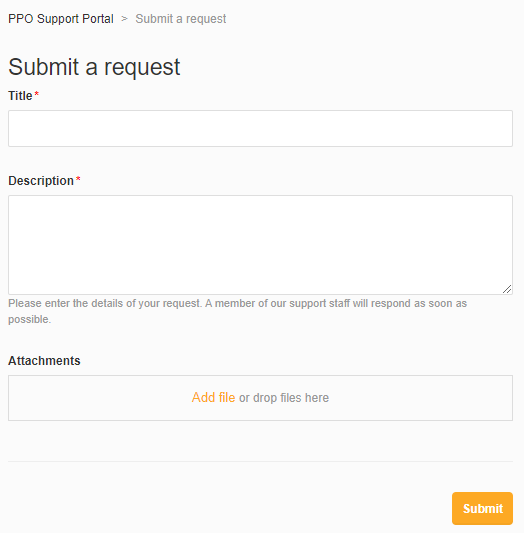 For more information related to the support ticket process, follow this link.
View My Tickets
The View My Tickets option allows you to view your Tickets, which are support calls you have logged. You are able to click through to the particular request and quickly view the status of your request.
When viewing your requests, you will be able to filter on open, awaiting reply, and solved requests. You are also able to see all the requests which you were CC'ed on.
The Contributions section will show articles you have commented on. Then lastly, the Following section shows you a list of all the articles, FAQ's and ideas that you are currently following on the support portal.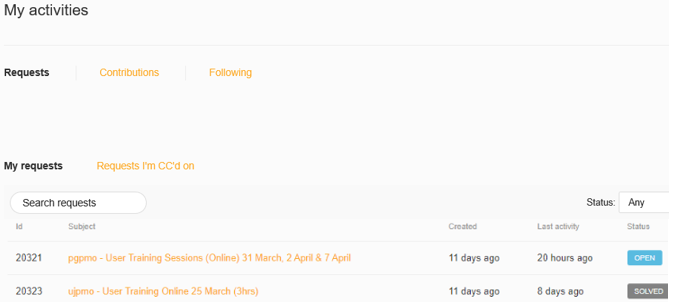 Online Training
By selecting online training, you will be redirected to our website where you have the ability to book for User Bootcamp, Admin Bootcamp as well as Life Cycle Bootcamp. These training sessions are free for all our PPO clients.
What's New?
The Product News section of the blog is available from the What's New item.
The articles cover enhancements (new features and functionality). Users will also be directed to articles in the Support Portal for detailed information and step-by-step guides on how to use the new functionality.
PPO Webinars
By selecting PPO Webinars you will be redirected to our website where we publish the topics, dates, and times of all our PPO product-related webinars. These are aimed at looking into specific PPO functionality.
Search
The Search option allows users to quickly search through all the FAQ's, Knowledge Base articles and ideas, by entering the search criteria in the "Search" box and pressing the enter key.