A training instance (also sometimes called a test instance) is a separate "sandbox" or "playpen" instance that can be used for ongoing training and/or testing without impacting the live data.
How do I request a training instance?
To request a training instance, simply log a support call and the PPO Support Team will assist you.
How much does it cost?
A fixed monthly fee is charged for the training instance which is available on the Pricing page on our website.
Can I have more than one training instance?
Yes. You can for example have separate instances for training, development, and testing. You will be charged a fee as above for each instance.
Is the configuration, data, and users the same as on the production instance?
When the training instance is created, it will be identical to the production instance. It will however diverge from the production instance as time goes by and changes are made on the production instance The training instance can however be "refreshed" on request by logging a support ticket.
When should I have a training/test instance?
It's not compulsory to have a training instance, but it's highly recommended if you have more than 50 users; if you wish to do integration or if large configuration changes are required.
How do I know I am on the training instance and not the production instance?
When you request a training/test instance, you will be given the opportunity to select a name for the instance e.g. acmetest. You can therefore see which instance you are on by looking at the URL.
You can also easily identify that you are on a training instance, by the "watermark" which is displayed (as per the screenshot below).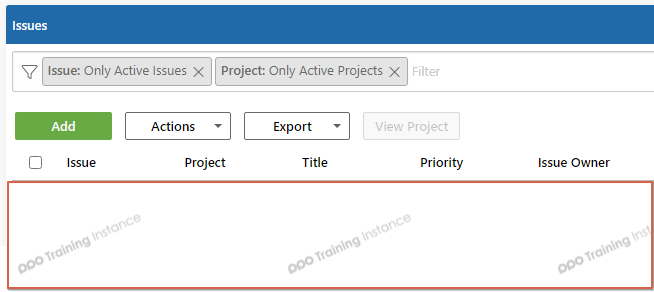 How do users know if they are getting e-mail notifications from the training instance or a production instance?
By default, e-mail notifications are disabled on the training instance when it is created. You can however switch this on again if required for testing purposes.
For more information on e-mail notifications, access the following knowledge base article.
You however need to take care with this as it could easily confuse users. If you need to test a specific notification, it is suggested that you modify the e-mail subject/body to clearly show that it is for test purposes.
How do I terminate a training instance?
It is the responsibility of the client to request the training instance to be terminated, by logging a support call. Please note that you will be charged for a training instance for a month or any part thereof that it is running. No credit is given for a partial month.