This article covers:
Concepts
PPO is built around the concept of entities, the most important being Projects. Each project can in turn be linked to other entities like Documents, Tasks, Issues, Risks, etc. and these are referred to as Project Related Entities.
In addition, there are entities that are not directly associated with a project like Employees, Demand, Programmes and Approvals. We also have Non-Project-Related entities which allow you to define your own entities that are not directly linked to a Project.
Use Cases
A non-project-related entity, as the name suggests is a 'stand alone' entity in PPO which could be used in various use cases where you are not forced to link a Project to it. Below are a couple of use cases:
Demand / Idea Management - Logging a list of demand items/ideas to be reviewed. Once approved these are converted into a project.
Prioritisation Scores - Loading a list of Initiatives to be prioritised that aren't linked to existing projects. Based on scoring, these could translate into a project
Stakeholder Database / Vendor Information - If you need to keep a database of vendors/stakeholders that aren't directly linked to a project.
Enabling Non-Project Related Entities
A list of the entities that are available can be accessed from the Administration Menu by selecting the Entities menu item. Filter in the filter control to show Project Related Entity = No to view the 2 available entities.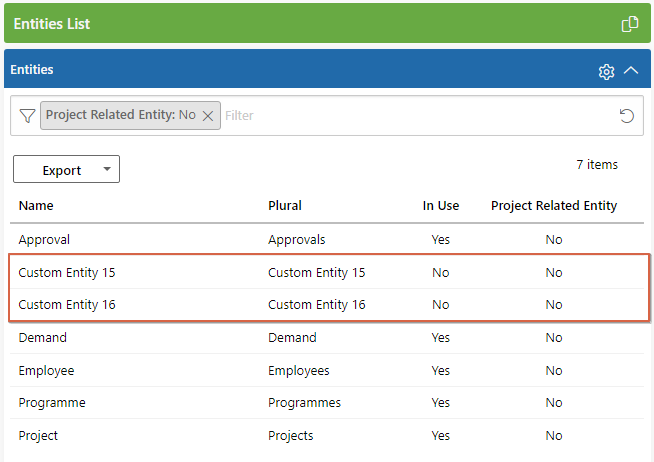 Refer to this article on how to enable a custom entity and rename it.
The entity must then be configured by setting up the appropriate fields and made available to the applicable user groups. For more information on user groups, access the following knowledge base article.
Linking documents to a non-project related entity
The Non-project Documents project is the default selection when linking a document to a non-project related entity. You do however also have the ability to change the project to another.

Additional Considerations
The following considerations should be kept in mind:
Only a detail report is available for blank custom entities.
If there are additional reporting needs you can log a ticket with the PPO Support Team for assistance.