To evaluate the quality of the data captured on PPO, clients are generally interested in answers to questions such as the following:
Is the Project Manager allocated at the correct time during the project Life Cycle?
Have Risks been uploaded to the project?
Does the project have a project plan?
Do all Tasks have responsible persons identified?
Does the project plan include Milestones?
Have all open Issues been updated in the last 14 days?
Has the project Budget been recorded?
Are there any overdue Issues (Issues where the due date has passed)?
By making use of calculated fields, PPO has the ability to automatically calculate the answers to these questions and present them as Red, Amber or Green indicators depending on the requirement. This allows users to quickly assess the quality of the data presented and then identify areas where improvements need to be made. The results of the Data Quality Indicator questions will be displayed on each project's View page and can also be extracted in Reports at the portfolio and project level.
Here are some examples of additional Quality Indicators that have been implemented over and above the standard indicators in PPO: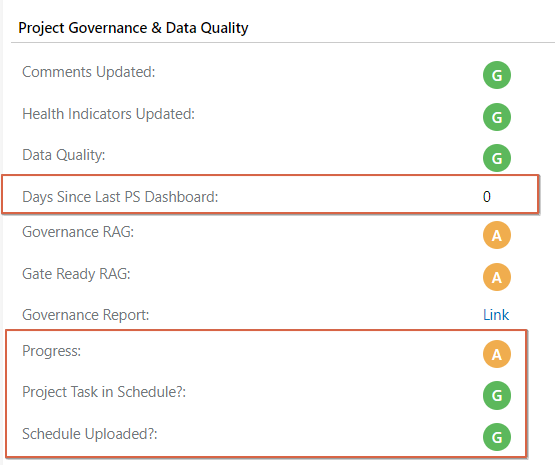 Follow this link for more details on the standard Data Quality Indicators.
Portfolio Data Quality Report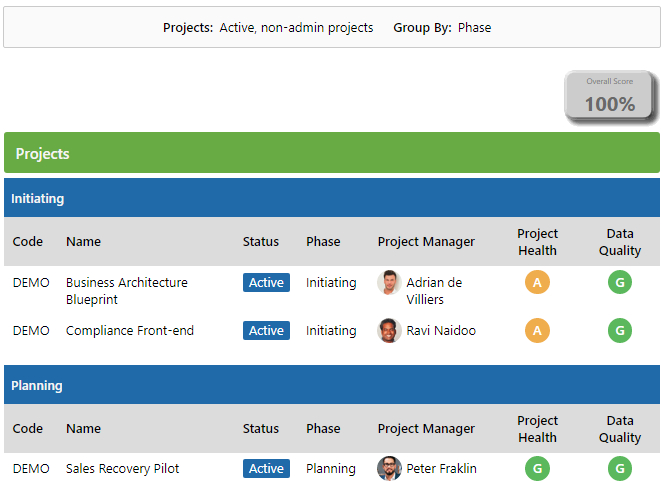 Project Quality Report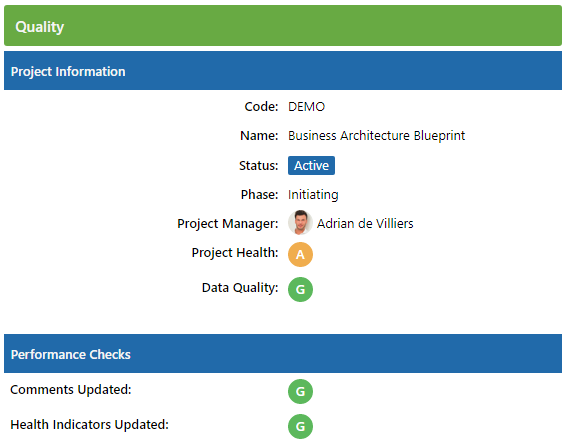 How do I go about setting this up?
Identify, define and specify the list of rules
The first step in setting up Data Quality Indicators is to decide which aspects of data quality will be tested for and define the rules and conditions for Red, Amber & Green
This step is key to successfully implementing the Data Quality Indicators. You can also approach your Account Manager to help and guide you through this process.

Log a call with the PPO Support Team
Log a support call with the PPO Support Team to assist. Once the call is submitted, the PPO Support Team will provide a quote for the implementation of the data quality indicators, which will depend on the complexity of the quality indicator rules.