Normally, PPO requires a physical file to be uploaded when you add a document to PPO. There are however circumstances where there is a requirement to link to an external document, rather than uploading a file.
Examples of some of these reasons include:
Your organisation has an existing Document Management System in place (e.g. Microsoft SharePoint Services, Documentum, etc.) and you would rather use that, either as a matter of policy or preference.
You have documents which you want to reference, but the size exceeds the limit imposed by PPO (refer to the knowledge base article for details about the current limit).
You want to link to documents that are stored on other platforms or on the internet.
PPO does allow you to do this, although it does require some configuration changes as well as the assistance of the PPO Support Desk. Before implementing this functionality, you should carefully consider whether it is the right decision. For more information, refer to the cautionary at the end of this FAQ.
Step 1: Configure a document link field
The first step is to add a custom URL field to the Document entity on PPO, which will be used to store the reference to the external file.
Most Document Management Systems (DMS), that are web based, provide a URL link that refers to a specific document. Users will then be able to simply copy the link from the DMS and paste it into the PPO field.
To add a custom URL data field, please visit the following knowledge base article which will provide detailed guidance.
We recommend that you add the existing DocumentFileName ("Physical File") field as well as the new custom URL field to the same category called "Physical File / Link" as illustrated in the screenshot below. This will help users to understand that they can supply one or the other. Please also make sure that you do not make this field required since Administrators still need to be able to upload physical files for the Lifecycle functionality in PPO.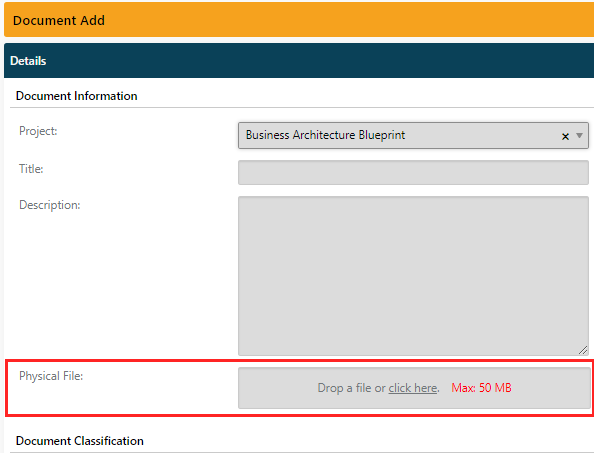 Step 2: Make the physical file field optional
By default, the DocumentFileName ("Physical File") field is a mandatory/required field since it is central to the document management functionality in PPO. Furthermore, PPO Administrators do not have the ability to take the field out of use or make it non-required since the field is locked down as a standard field. Therefore, in order to make the field non-required you need to log a support call with the PPO Support Desk that will do so on your behalf (it is not possible to take the field out of use completely).
Step 3: Implement validation rules
Since both the DocumentFileName ("Physical File") field as well as the new custom URL field are now optional (not required), you probably want to implement a validation rule which will ensure that users either upload a physical file or specify a link.
You may also want to restrict the ability to upload physical files to PPO Administrators (due to company policies).
Both these validation rules can be set up with the standard PPO Business Rule functionality.
Cautionary
Before deciding to store documents outside of PPO, you should carefully consider the advantages and disadvantage of doing this.
Since PPO is an internet facing application, storing documents in PPO ensures that documents are available to all users with a connection to the internet that are appropriately authorised and authenticated. This includes not only internal employees, but also other parties like outside contractors which you have granted access to PPO. If you link to documents in an internal document management solution, the documents will only be available to users that are connected to your corporate network.
By linking to an external document store, users will be taken out of the "context" of PPO which could be disruptive to their workflow. For example to add a document to a project, users will first have to go to the document management system, copy a link and then go back to PPO and update it there.
The likelihood of PPO becoming out of sync with the document management system is very high, for example a user adds or updates a document on the document management system, but forgets (or decides that it is just too much effort) to update it on PPO.
Additional Considerations
Q: Why can I not take the physical file field out of use?
A: The Lifecycle functionality in PPO requires the uploading of SVG files, which are treated like any other document in PPO. In order to customize the lifecycle, at least some users will need the ability to upload physical files.
Q: Why can I not make the custom URL field required?
A: As explained in the previous answer, at least some users need to be able to upload SVG files. In those cases you do not want to specify a value for the URL field.
Q: Can I link to files stored on a file server or Network Attached Storage (NAS) on the corporate network.
A: Yes. The URL should start with "file://" and then the path to the file, e.g. file://acme/files/file.txt
Q: I made the DocumentFileName field required again by "accident". How do I make it non-required again?
A: Log a support call with the PPO Support Desk who will gladly assist you.