PPO has various standard entities such as Risks, Issues, Costs, Scope Changes, Health Indicators, Comments and Tasks as well as custom entities that have been pre-configured such as Benefits, Decisions and Lessons.
Not all organisations have the need to embed all the functionality that PPO has to offer and might have the need to permanently remove or hide certain entities from the user base to focus on what they require based on their methodology as well as current reporting needs.
This article covers:
Knowing whether to hide or remove entities relies on whether you might want to introduce this functionality to your user base at a later stage or whether it is something that you will never use in PPO. We also need to take into consideration whether the entity is a standard or a custom entity.
Difference between standard and custom entities
Standard entities in PPO cannot be taken out of use (removed), they can either be hidden behind user group access or can be re-used for a different purpose.
In the case of Custom entities, the fields that have been configured as well as the entity can be taken out of use, re-used or hidden behind user group access.
For any of the 2 types mentioned above, special precautions must be taken as fields are referenced in various reports and dashboards. The support team would need to be involved to assist users to remove entities from reporting in PPO.
How to hide entities by means of user group access.
This option is mainly used for Standard entities; as well as Custom entities that you might want to use in the future.
To hide entities we first need to check where the entity and fields are being used/referenced as a clean-up on reports and dashboards is required. To check field usage, navigate to the Administration Menu and select Data Fields. On the Data Fields List page select the related entity and filter to show only fields that are in use.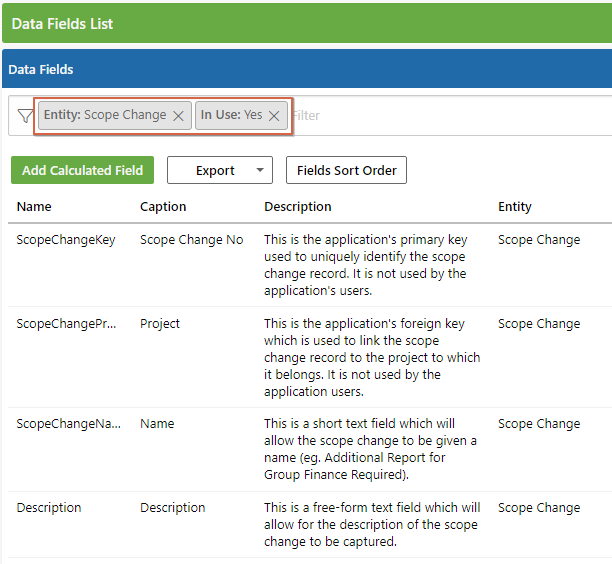 When checking field usage, we usually first do a check on the Name / Title of a record as this is usually shown in reports/dashboards (then check the other fields). Select the field and click the Field Usage button: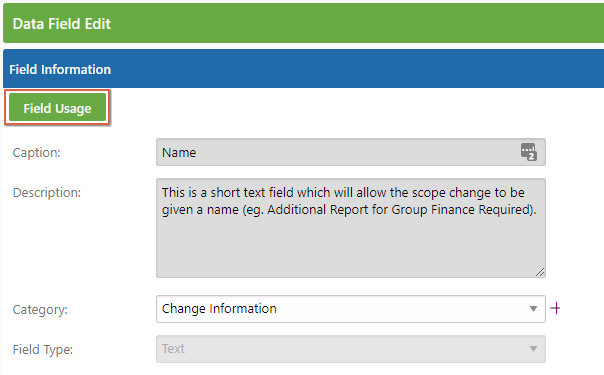 The Field Usage page will show you exactly where it is being used. In the below example you can see the Scope Change Name is referenced in 2 business rules as well as 6 reports and dashboards. For Business Rules you simply drill into the records and mark them inactive for later use. For reports that relate only to the specific entity like a Scope Change Summary Report or the Individual Scope Change Report, you can navigate to Administration and select User Groups, then remove user group access from all User Groups.
For Dashboards and Reports, there are certain sections that relate to the specific entity such as the Project Status Dashboard, Programme Dashboard, or the Project Closure Report. You need to log a support ticket in order for us to only remove the specific sections in the Dashboard/Report related to the entity that you want to hide.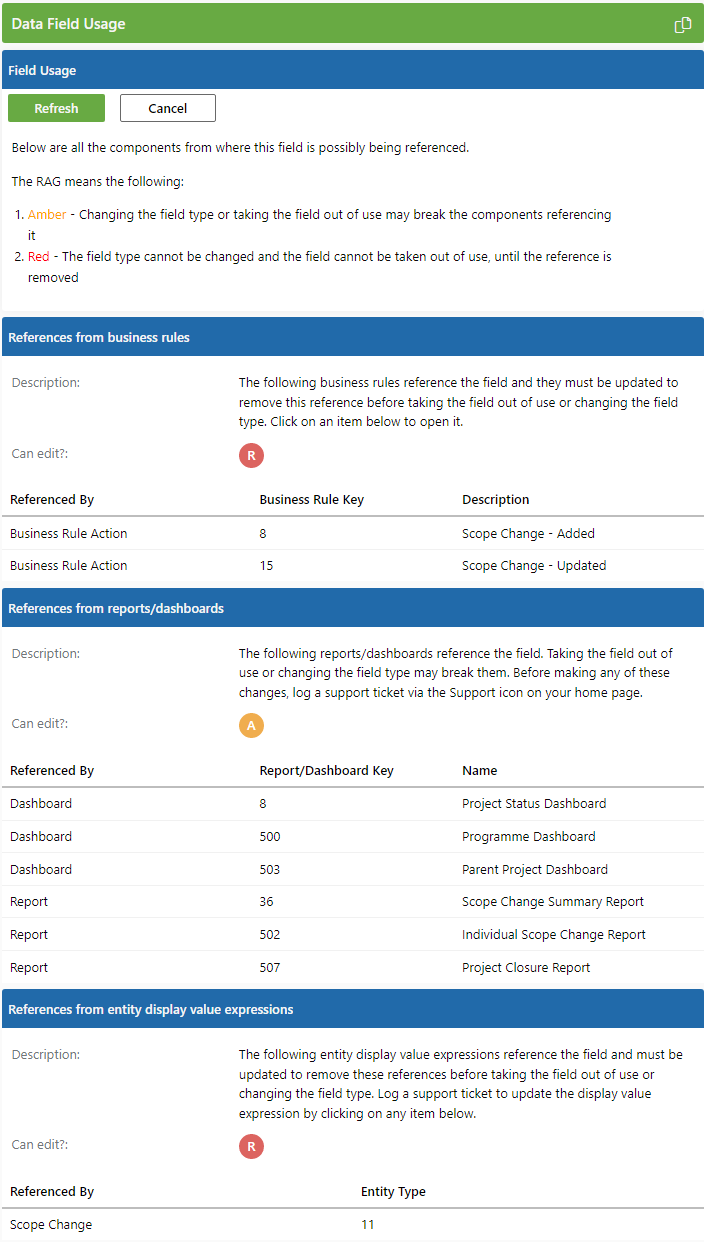 Once all references to the entity have been removed, you need to remove user group access so that the user can't view it:
Entity access:

Reporting access:

How to remove custom entities by means of configuration
For this option, the main reason why you would want to totally remove the entity is if you never want to use it or if it is an entity that isn't required anymore and you might need it for another purpose.
Taking an entity and all its fields out of use means that all the underlying data will be lost. You might want to consider saving a detail report if you need to keep this information.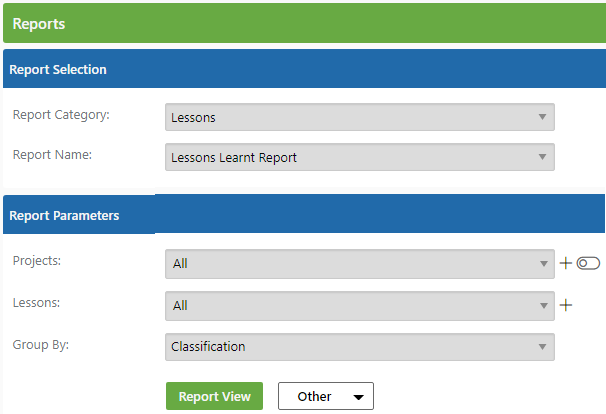 You need to drill into each data field to check the field usage. You should delete all Business Rules & Filters related to the entity and fields. For filters clean up, in the example below, a field is used in a User Group filter.

Drill into the item as shown above. The below screen will open that shows where this User Group filter is applied. The filter named "Transform & Grow Only" is applied to the Project Team Members user group as well as the Project Administrators user group.
The filter must first be un-applied before we can delete it. As per this example, you first drill into the Project Team Members line shown above, then un-apply the filter by clicking on the dropdown where it is applied, then select the white space above it and Submit. When moving to the next user group, you will be able to delete it.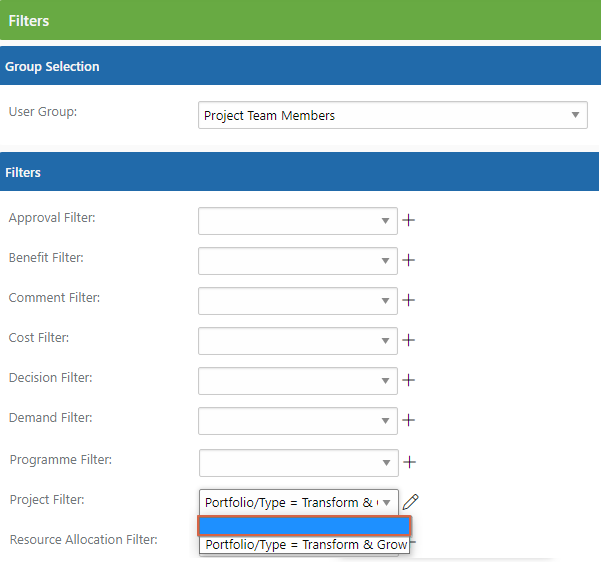 If you try to delete a filter that is being applied to other User Groups, you will get an error message as shown below: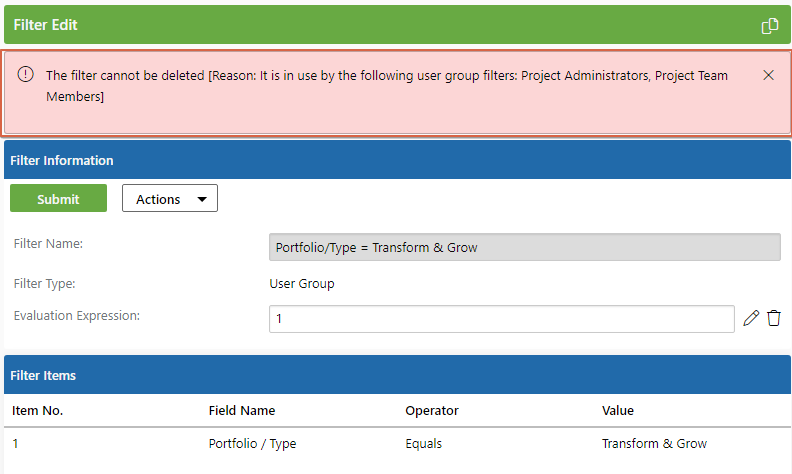 For reports relevant to the specific entity, the support team can delete them as well as help with the clean-up of other Reports & Dashboards.
Once the field usage is cleaned up you can take the field out of use by unticking the "In Use" tick box. When all fields have been taken out of use, hover over Administration and select Entities. You can then take the entity out of use as shown below: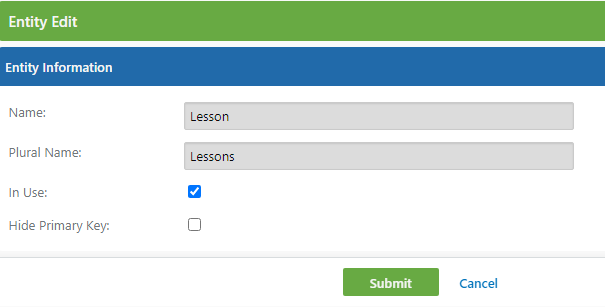 If you have any queries related to the above, feel free to log a support ticket.