The answer is Yes. In situations where users don't use MSP with PPO's import functionality, PPO can be set up to calculate the duration of a task based on the planned start- and end dates of the task.
Background:
In Microsoft Project, the task duration is calculated when creating your project schedules. When those schedules are imported into PPO the task duration is also imported and reflected in PPO (as per the screenshots below).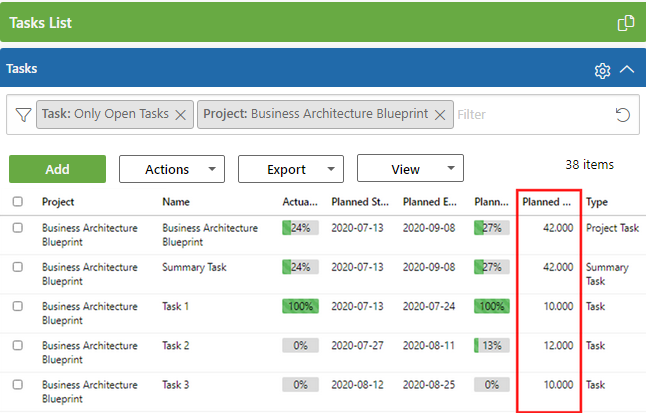 If you are not using MSP and are manually adding tasks in PPO, the task duration is NOT automatically populated and needs to be captured manually.
Why is Duration important?
On a project level, PPO calculates the overall Actual % & Planned %. These calculations take into account the duration of all tasks in your schedule where the Type is Task (it excludes the project task, summary tasks & milestones). If a task does not have a duration captured, the Planned & Actual % on Project level will not calculate.
The Actual & Planned % fields on the Project entity are used widely across all reports and dashboards in PPO.
It is also important to note that if you are looking into doing resource planning in PPO, duration will also play a big role. Follow these links for more information on Resource planning and Planning reports.
For users that add tasks manually or use the Excel template we have the option to calculate the Planned Duration (days) field by making use of the Set Field Values business rule: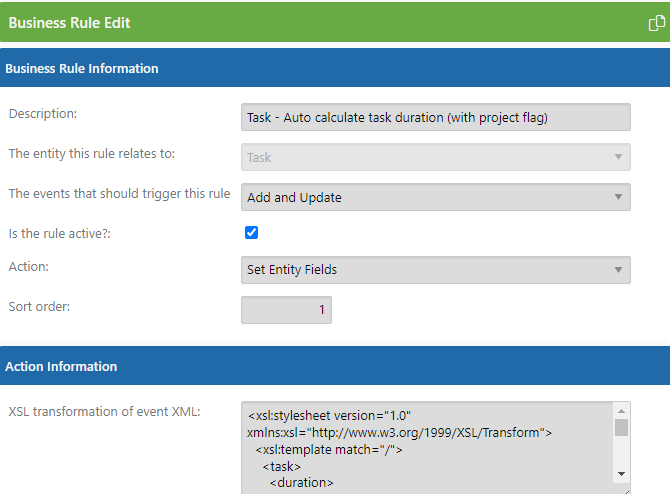 There are two options when implementing calculated task duration:
Option 1:
To allow the duration of tasks to be calculated for All projects. This would typically be done if none of the project managers use MSP.
Option 2:
Refine the rules of calculating the task duration to only certain projects. This then allows certain Project Managers to use MSP and other to add manually but still have the benefit of not needing to manually input the duration.
To enable this functionality you will need to log a ticket with the PPO Support team who will be able to assist you with setting up the functionality according to your requirements.
For more information on the Set Field Values business rule please refer to the following Knowledge Base Article.