To change your own personal skin, hover over your avatar/user options and select Preferences.

To change the default skin for the instance, access it by going to System Configuration under the Administration menu. On the skin drop-down select the Custom option.

There are primary and secondary colour settings that change colours for different sections in PPO. Primary settings will mainly affect the page title bar and certain sections on reports and dashboards.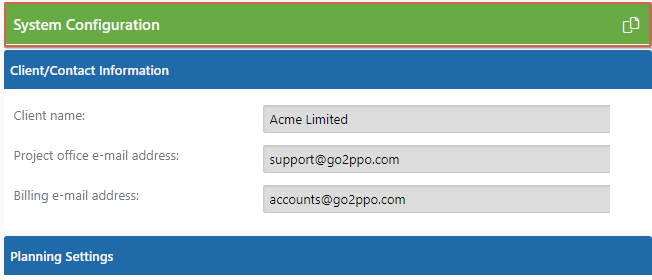 Secondary settings will have an affect on section heading bars and change some sections on reports and dashboards as well.

The font colour setting will change the colour of the text in the applicable sections. This would usually need to be a colour that reads easily with whatever background colour is used.

Choosing colours
The colour picker control is used to select any desired colour.
The input for the control does allow for typing (or copy pasting) the hex value for a colour as well. This is useful when specific corporate colours need to be used.
Important behaviour notes
As settings are changed, the changes are dynamically made to the skin that is being previewed so that the result is known before submitting the page. This makes it easy for the user to see whether specific colours work together and that the headings are readable. Remember to click the submit button to apply the changes.