This article covers:
Users can set basic preferences from the Preferences item under their user menu located at the top right of all PPO pages.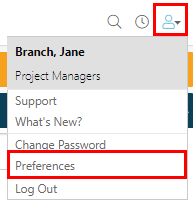 The preferences page allows for the following items to be set:
List page size
The number of items shown on list pages can be set from the Preferences page. The user can therefore opt to see 100 items per list page or less.

Once selected this list page size setting applies to all list pages in PPO. Below is an example of the Task List page showing 100 items per page:

In order to keep PPO's performance and speed optimal, the list page sizes cannot be set to more than 100 items per page.

For more information on list pages, see the following knowledge base article.
Receive email notifications
PPO has a notification engine which is configured by the system administrator to send e-mail alerts when things occur on PPO (e.g. a risk is raised, an issue is edited or a document is uploaded).
Each user of PPO can decide whether or not to receive e-mail notifications. On the Preferences page, users can uncheck the Receive e-mail notifications checkbox which will ensure they do not receive PPO e-mails. This will however also result in the user not receiving Report Mailers that have been setup on the PPO instance.
Default value for "Billable"
The PPO Administrator can define whether the items in the time entries page need to be billable or non-billable by default for all users. To find out more about this setting access the following knowledge base article.
The Users can however, specify their own default as well and the user preference will then override the global default.
For more information related to the time entries functionality, see the following knowledge base article.
Skin
The default skin on the instance is set by the administrator (for more information, access the following knowledge base article). However, users can select one of the other pre-defined skins or create their own custom skin. To revert to the instance default, select the "...Global Default..." option from the dropdown. For more information on creating a custom skin, refer to this knowledge base article.