This article covers:
Why do we have report mailers
Often, clients want a PPO report or dashboard to be e-mailed to them automatically, on a scheduled basis. PPO caters to this requirement through its Report Mailer functionality. The recipients of these e-mails are defined on a user basis, and special custom filters can be applied to the report, as deemed necessary.
To enforce PPO's security model, e-mailed reports are only sent to resources that have an Active user account on PPO. All e-mail events, including report mailers, adhere to PPO's user group access settings, ensuring that no unauthorised information can be accessed via e-mail.
Access to report mailers
To access Report Mailers, hover over the Administration Menu and select Report Mailers which will take you to the Report Mailers List page.
If you do not see the Report Mailers item under Administration, this can be updated under User Groups. For more information about setting up user group access rights, read the following knowledge base article.
Adding a report mailer
Watch this short video that explains how to set up a report mailer:
You simply click on the Add menu button to create a new mailer.

In the below example we want to send the Project Status Dashboard to Project Managers. We however only want the Project Manager to receive the Dashboard where they are selected as the Project Manager on a Project. Depending on your reporting frequency it can be sent out a couple of days before to ensure project updates are done on time.

Description: You can insert any description that gives a short summary of what it is.
Type: Allows you to select either a Report or Dashboard.
Reports: This allows you to select the specific report or dashboard name that will be sent.

Criteria Selection: This shows the parameters associated with the report and is the same as those you would see if you ran the report manually. In the above example, we built a Custom filter to only send Dashboards if you are the Project Manager of a Project (In the filter it would be Project Manager = Current Employee). You also have the ability to apply existing Shared Filters.
It is very important that you are clear in terms of what must show on the reporting when it is sent. It could cause performance issues if you have a huge project list and forget to apply a filter to slim it down based on the requirement.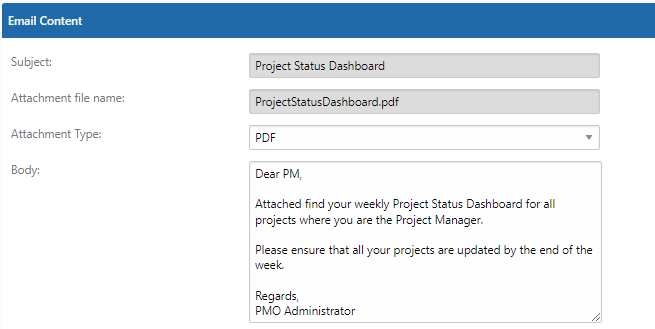 Subject: This by default shows the report or dashboard name selected but you can change it.
Attachment file name: This will default to the report or dashboard name selected.
Attachment Type: This indicates whether the report attachment will be sent as a PDF or Datasheet view depending on the specific report selected.
Body: This is the text that appears in the body of the e-mail when the report mailer is sent.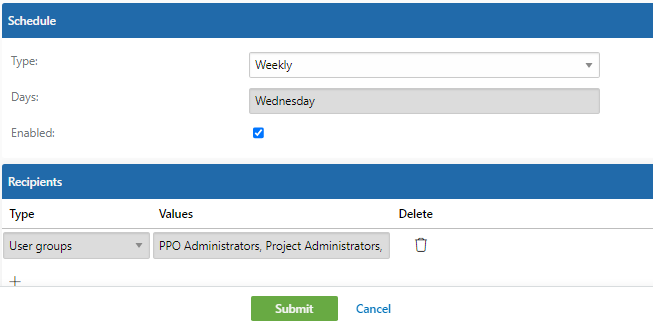 Type: This indicates the frequency of when the mailer is sent (weekly or monthly).
Days: Enter the days on which the report mailer must be sent (e.g Wednesday for weekly reports and the 1st and or last day of each month, for monthly reports).
Enabled: Indicates whether the mailer is enabled or not.
Recipients: When specifying the recipients for the report mailer a custom employee filter and/or one or more user groups can be selected (e.g. send to all users in user group: PPO Administrators OR send it to certain employees based on rules).
Editing a report mailer
To edit a mailer, you can select a specific report mailer from the list and select the Edit button.

Viewing Recipients
It is advised to View Recipients after you have set up the mailer to ensure it is going to the correct users and to ensure that the users have access to the actual report / dashboard being sent.
On the Report Mailer View page, click on the Actions button and select View Recipients.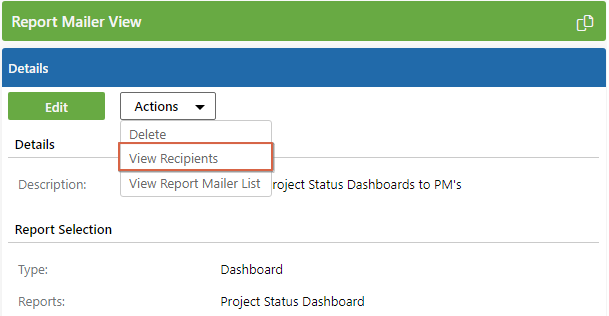 As shown below, a valid recipient must:
Have an Active Employee record
Have an Active User account, and have
Access to the selected report or dashboard

Note that even if all 3 indicators are green, it does not necessarily mean that the recipient will receive an e-mail since the report may be empty (based on user group filtering as well as the criteria selected) in which case they will not receive an e-mail.
Job Execution Log Entries
Once a report mailer has been enabled and has run, log entries will start appearing in this section to show you what happened with each completed run.

Job Start: Shows the date and time when the report mailer run was completed.
Requests Made: Shows the number of requests that were made. This should correspond to the number of recipients that meet the criteria as described in the previous section (e.g. active user, active employee and has access to the report).
Emails Sent: Shows the number of report mailer emails that were sent successfully. This may be lower than the number of requests made since some of the reports may be empty.
Result: Shows whether the report mailer was completed successfully.
Additional information:
If a report contains no data, an e-mail will not be sent,
The report mailers are sent out at 1am (GMT/UTC)