This dashboard provides a high-level overview of resource planning / allocation in your organisation from a project perspective. Depending on the parameters selected, it will show either the total planned hours or the Planned percentage of capacity per project (or a grouping of projects) over time. It is therefore ideal to get an idea of where your capacity is being applied to allow you to understand whether this aligns with your strategic objectives.
Source of data
Resource allocation or planning is determined on the basis of resources that have been allocated to specific projects. Generally this will either be on the basis of Tasks that have been assigned to specific resources or by using a Resource Allocation entity, depending on the configuration on your instance. For more information on resource planning, access the following knowledge base article.
Parameters
You can adjust the parameters as shown below in order to see the information that you are interested in.
Projects: You can either show information for all projects or select a project filter in order to show information about a sub-set of projects. Note that if you want to see accurate information about past projects that have already been completed and marked as inactive, you should disable the global filter toggle.
Group by: You can either show information by project or by a grouping of projects (based on any group-able project field).
Period: This defaults to the current month but you can select a different period if required. It should be noted that the dashboard shows information for both the period selected and the six months around the selected period in order to provide context.
Show: The dashboard can either display Planned Hours or Planned percentage of capacity. Note that in the case of the latter, the capacity hours will always be the total capacity of your organisation.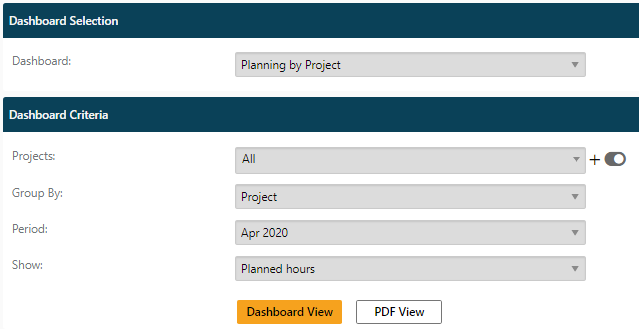 Content
A summary of the planning information for the selected period is displayed within the Key Statistics section.
The next section shows a view of the Planned Hours (or % of Capacity depending on your parameter selection) for the selected period (on the left) and the six months centered around the selected period (on the right). It should be noted that these graphs are at a daily granularity and the y-axis of the chart should be interpreted accordingly (i.e. the hours represents hours planned per day).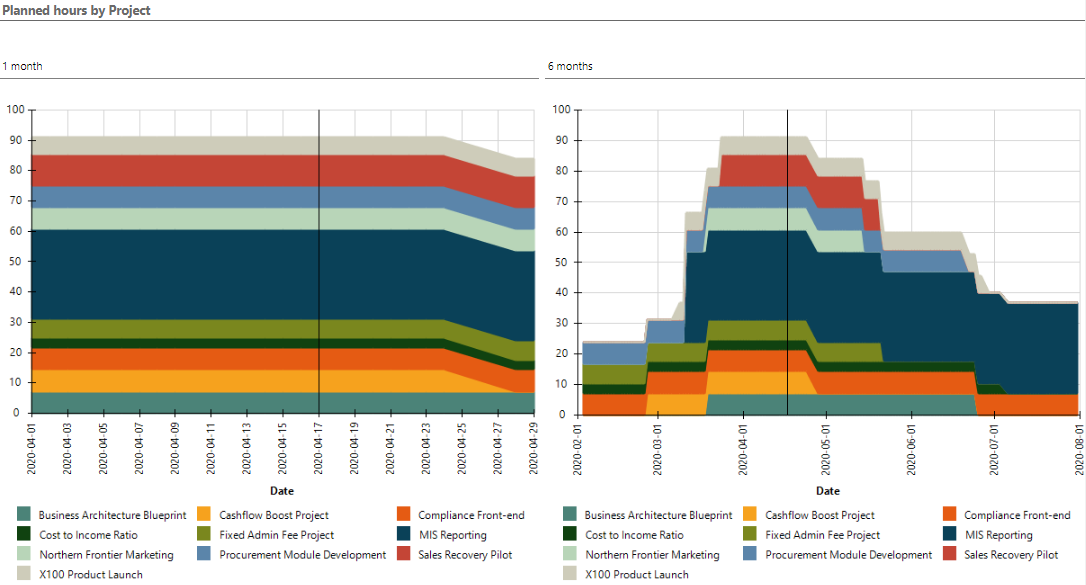 The last table, shows the breakdown by project (or whatever grouping that you selected) per month centered around the selected period. When looking at the example below you will notice the planned hours for April, which is 1627, is also displayed in the Key Statistics section of the dashboard (as mentioned above).

Need Help?
If you still require additional help with the dashboard, feel free to log a support call and the PPO support team will gladly assist you.