This article covers:
Public holidays
PPO allows for the storing of public holidays to ensure that these days are taken into account when planning is done and resources booked. Public holidays are also taken into account on utilisation reports.
A public holiday will be marked in red on the calendar control function used to capture dates in all date type fields (today is marked in orange).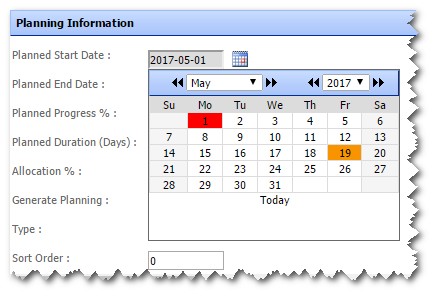 South African public holidays are pre-booked for all instances as soon as the public holidays for the following year become available.
Clients outside of South Africa will be required to add their public holidays manually, as detailed in this article.
Adding a public holiday
To add a public holiday manually the PPO Administrator must have access to the Administration menu item and the Public Holidays icon.
Click on the Public Holidays icon to view a list of all the public holidays already loaded on the instance.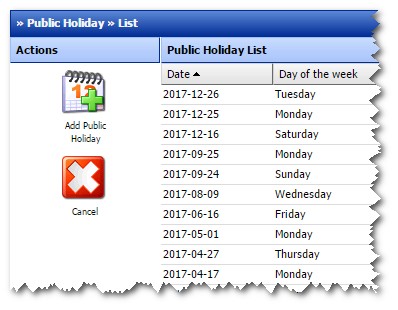 To add a public holiday, click on the Add Public Holiday icon. Then select the date you wish to add as a public holiday from the calendar control function.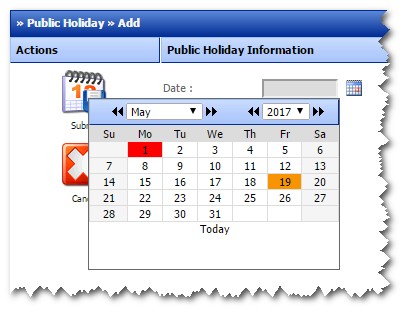 This day will then be marked as red for all calendar control functions, indicating it as a public holiday.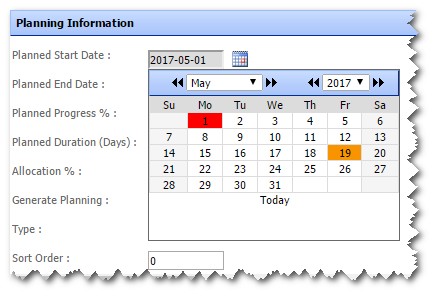 Deleting a public holiday
To delete a public holiday, click on the holiday you want to delete from the Public Holiday >> List page.
A Delete icon will be available on the Public Holiday >> View page. Click on the Delete icon to delete the public holiday.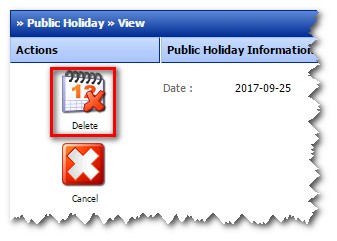 The date will no longer appear as a public holiday on the calendar control functions.