This article covers:
Custom entities
Each instance of PPO has nine custom entities available in addition to the standard PPO entities provided. These entities are very similar to the standard entities in terms of the functionality that they offer and can be used for capturing any additional project-related information that may be required.
Pre-configured entities
PPO offers a list of pre-configured custom entities that allow you to instantly start using the required entity without having to configure the entity from scratch. The pre-configured custom entities also include a custom report that is deployed along with the entity. Empty custom entities can also be requested and can then be configured to meet a specific need.

Examples of pre-configured custom entities available are:
Setting up custom entities
Custom entities are available in the form of unused entities from the PPO front end. To "activate" these entities, the administrator must access the Administration menu item and then click on the Data Fields icon. From the Field >> List page the administrator then needs to select any of the unused entities and then click on the Edit Entity icon.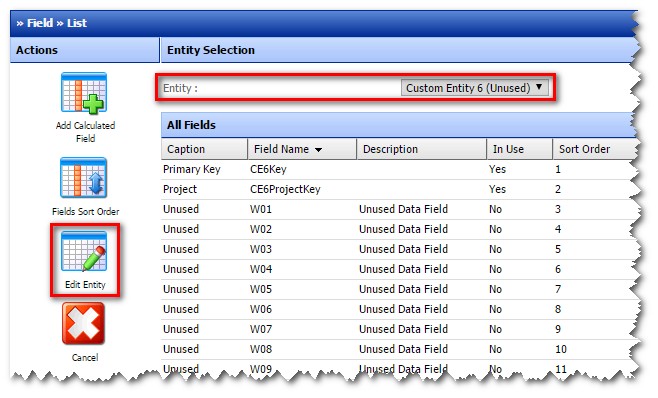 Rename the entity and ensure the In Use check box is selected. Then click on the Submit Entity icon.
The entity must then be configured (see above links to examples of configured entities) and made available to the applicable user groups. For more information on user groups, access the following knowledge base article. 
Additional Considerations
The following considerations should be kept in mind:
Only detail reports are available for blank custom entities. However, all pre-configured custom entities are deployed with a custom report.
Only project-related entities are supported (i.e. each item must be associated with a project).
If the Support Desk is requested to implement a custom entity there could be charges related to this depending on the complexity of the requirement.