The Feed Widget in PPO is a feature designed to keep project communications and collaboration flowing. This feature supports the use of Conversations where you can tag users and/or User Groups as well as getting feed notifications where entity items have been updated in PPO using the Send to Feed business rule. In addition, if your notifications are enabled for the My List Widget you will get feed notifications if the items in your "My List" is updated.
This article covers:
Feed notification and count
The feed icon can be found on the top right-hand side of the Main Menu next to the Search button. In the screenshot below you can see that the user has 2 unread feed items.

Users are able to see the number of unread items on the page title (tab caption at the top of the browser). You will also hear an alert sound when you get a new feed item, below is a screenshot of how the tab caption will look if there are unread feed items.

When clicking on the Feed icon, the feed will open up as shown below. Here you can see 3 items have not been read yet, as they are still highlighted. All 3 of below relate to being tagged in Conversations.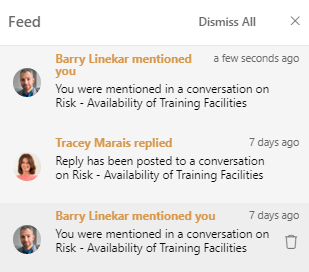 Below is an example of a feed notification that was triggered for an Issue that was added based on a Send to Feed business rule.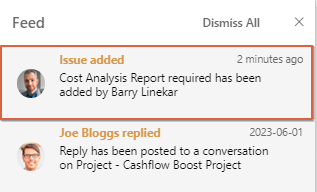 An example of an item being updated that is in linked to your My List widget:

Weekly email reminder of unread feed items
In addition to the above, an e-mail notification will be sent once a week on a Thursday at 11h45 (GMT+02h00) if you have feed items that have not been read that are older than 2 days. Each user can decide under their preferences whether or not to receive these e-mails.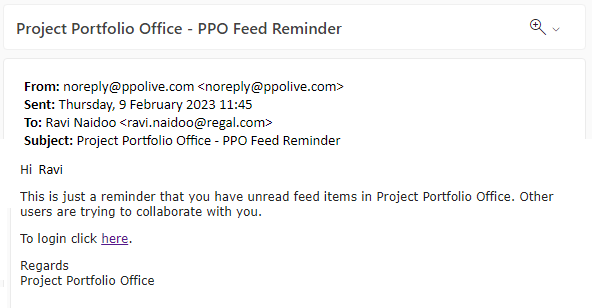 Who will get notifications?
Feed items are created for employees with an active user account. Examples:
If a new conversation is added or if you reply to a conversation, all employees related to the entity record will get a feed item for the conversation (employee type fields on the specific entity are taken into account whether they are hidden fields or not) as well as users / user groups that have been tagged.
If a Send to Feed business rule has been added for a specific entity, the recipient fields will get a feed notification.
If your notifications are enabled for the My List Widget you will get feed notifications if the items in your "My List" is updated.
Mark as read/unread
The feed item will be highlighted in the feed chain if it is unread. If a user clicks a feed item, they will be redirected to the entity view page.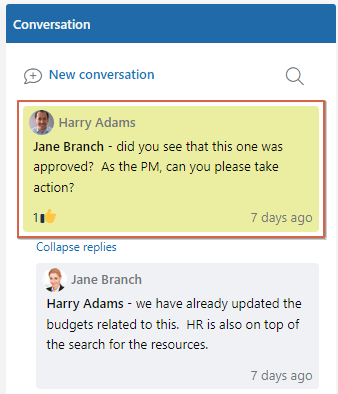 Once you have clicked on the feed item we see it as 'read' and will display it as per below.
If there are multiple feed items related to the same feed chain, if any one of the feed items is clicked, all of them will be flagged as read. This is to prevent users from having to click every feed item to flag it as read even though they all link to the same chain.
To mark a feed item as unread, simply click on the envelope on the right hand side of the feed notification.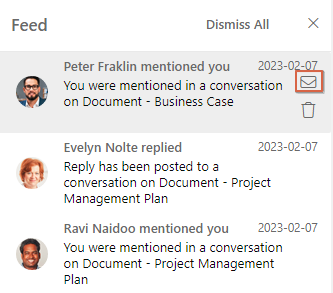 Dismiss all
You also have the ability to Dismiss All feed items which will remove all items in the feed. The 'x' on the feed is just used to close the feed pane.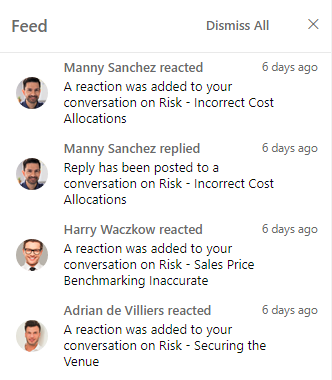 Follow the links for more information related to Conversations and the Send to Feed business rule.