This dashboard is used during the daily scrum meetings, the weekly sprint review meetings, and is also used on a day to day basis to monitor the progress of the sprint.
It provides details of the sprint, a burndown chart and various graphs to show the progress per team member. The bottom section shows a Kanban view of all the individual work items which form part of the sprint, indicating their status.
The screenshot below shows a single work item, including explanations of the meaning of the abbreviations used: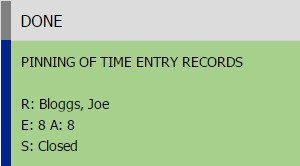 R = Person responsible for the work item
E = Estimated hours to complete work item
A = Actual timesheet hours captured for the work item
S = Status of the work item
The DONE status shows the sprint backlog status. The Kanban board therefore uses the following statuses: To Do, Doing and Done. All items start as "To Do" when the sprint starts and then move through the various statuses. The title of the work item is displayed at the top, in this example its:  Pinning of time entry records.
The various blue colors on the KanBan board indicate the priority of the work item. The dark blue indicates a high priority item, followed by the other shades of blue, which in turn indicates, medium and low priority work items.
You can drill-through on a work item from the Kanban board, if more information is required.